WILKINSON RETURNS TO BRITISH GT PODIUM IN PENULTIMATE SERIES ROUNDS AT SNETTERTON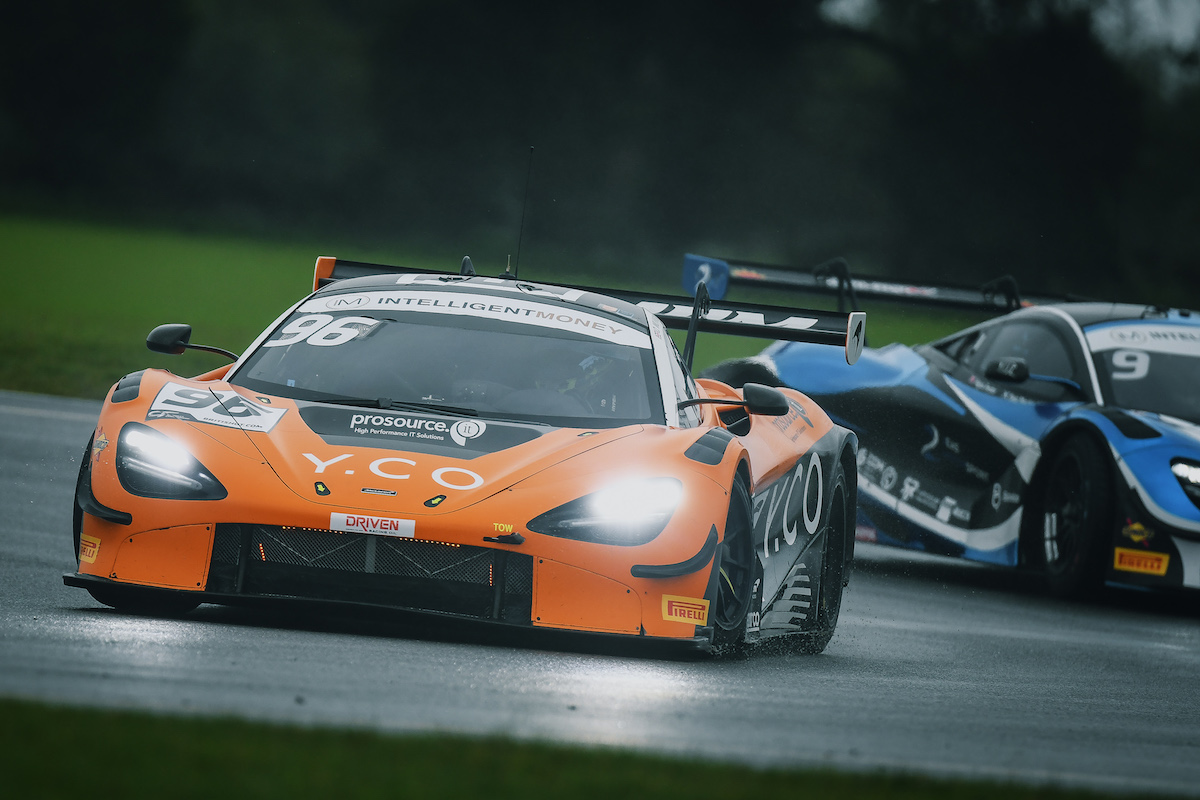 Ollie Wilkinson and Optimum Motorsport team-mate Lewis Proctor made a welcome return to the Intelligent Money British GT Championship podium, taking their McLaren 720S GT3 to third overall – and in class – during the first of two 60-minute showdowns at Snetterton.
The penultimate rounds of the series served up a wet affair from the start, yet the conditions suited Wilkinson and his Y.Co -The Yacht Company backed McLaren to run comfortably in the Silver Cup class top six in practice. Carrying that pace through to qualifying, the Optimum duo clocked in fifth and third fastest in class to secure sixth and ninth overall for Sunday's races.
Wilkinson's prayers for more rain were answered on race day, resulting in a safety car start for the first one-hour battle of the weekend. Once racing proper got under way on lap four, Proctor was the man on the move, making up three positions to lie second by the end of lap one. From there, Proctor continued to keep the #96 McLaren within striking distance of the 2 Seas Motorsport sister car before pitting on lap 11.
With Wilkinson at the helm, hopes of a second-place finish were high and – for the majority of the final 30 minutes – that looked well within reach. Tyre grip issues in the last few laps, however, allowed the #78 Barwell Lamborghini to reign-in and catch Ollie on the final tour, eventually pipping Wilkinson in a drag race to the flag by a cruel 0.08 seconds. Regardless, it marked the duo's welcome return to the British GT podium for the first time since they finished second in the season opener at Oulton Park just two months' ago.
The heavy rain may have subsided come Sunday afternoon, but the damp and greasy conditions left behind made for an equally challenging race two.
A solid start for Wilkinson maintained eighth overall, fourth in class, as early stage battles between the gaggle of McLarens occupying sixth to tenth emerged. Forced into defensive mode, Wilkinson did a stellar job to keep the hard-charging 2 Seas Motorsport McLaren of Angus Fender at bay for the majority of the first stint.
Although Wilkinson had to relinquish the position through the Bomb Hole on lap 11, the demotion was short lived as Fender threw away the position a lap later, leaving Wilkinson a clear run to the pit stop window.
Proctor picked up where Wilkinson left off to join in ninth spot, having served the additional five second success penalty by dint of their race one podium. Wasting no time in catching and passing his father, Stuart Proctor in the Balfe McLaren, Lewis continued unchallenged whilst pushing to catch the #10 McLaren. A last-lap moment for Jordan Witt, however, ensured Proctor picked up fourth in class at the flag, seventh overall.
"It's been quite a mixed bag this weekend, but another invaluable learning curve for us all, as a new driver partnership and team with a new car," said Ollie. "Of course it was disappointing to lose second by such a tiny margin at the line, I fought as hard as I could on that final lap. At the end of the day, it's just good to be back on the British GT podium for the first time since Oulton Park," said Ollie.
"As drivers and a team, we'd far rather the rain we had this morning than the damp and greasy conditions we had in race two. But we had some good battles with our sister McLarens and Lewis did a good job to bring us home fourth in class."
With just one round of the 2020 series remaining, Wilkinson heads to Silverstone for the British GT Championship finale on 7-8 November. Before that, the McLaren Professional Driver must tackle his Total 24 Hours of Spa race debut and penultimate round of his maiden GT World Challenge Europe Endurance Cup campaign on 22-25 October.
Photo credit: Gary Parravani
Ollie Wilkinson and team-mate Lewis Proctor looked in a promising position to take another Intelligent Money British GT Championship podium this weekend. Their pace and potential, however, were left unrewarded following contact approaching the final 30 minutes of the...
read more